BORO BOUNCE AND PARTY RENTALS
615-438-0195 Call 8am to 6pm Everyday
TO RESERVE, PLEASE USE OUR 24HR AUTOMATED SYSTEM
BORO BOUNCE and PARTY RENTALS receives 2014 Best of Murfreesboro Award
We deliver early mornings from 7am to 12noon and pick up 3pm to 7pm in Rutherford County. If not in Rutherford County, we must pickup by 6pm if event is on Sat or Sun. If you need a specific delivery time it may cost an additional fee, please let us know. Delivery times are set by GOOGLE MAPS and it changes course every time an order is added or canceled. It starts with whomever is the furthest away.
INFLATABLE BOUNCE HOUSE PHOTO GALLERY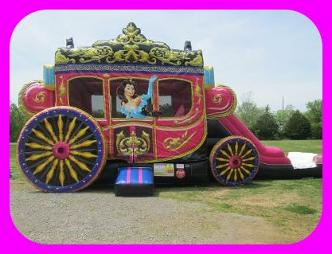 PRINCESS CARRIAGE COMBO with slide
$275.00 + tax
All day rental
Height 16ft
Width 13.5ft
Length 31ft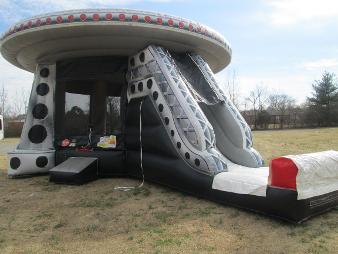 GIANT UFO COMBO with slide
$300.00 + tax
All day rental
MORE PICS
Height 20ft
Width 25ft
Length 36.5ft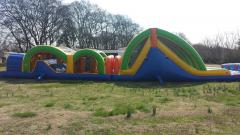 2015
(62 FT) 3 LANE OBSTACLE COURSE
This 3 lane obstacle course can fit in most standard size school gyms. Great for school events !!
$400.00 + tax
Height - 13ft
Width -15ft
Length - 62ft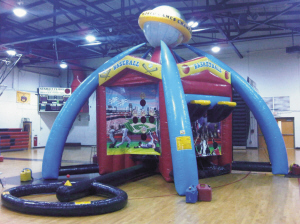 GIANT 5 in 1 Inflatable Sports Games
This unit has these popular games: football, soccer, basketball, baseball, dart/Frisbee
(No trees or power lines in setup area)
$300.00 + tax
Length: 36FT
Width: 28FT
Height: 21FT
< PLEASE CLICK ON PICTURE TO ENLARGE !! >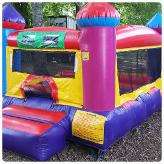 Mini Bounce
8ft W x 10ft L x 7ft H
$60.00 + tax
Make sure to watch video before reserving
All day rental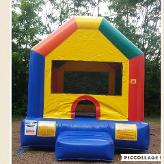 NEW 2017
MINI FUN HOUSE
11.5ft L x 10.5ft W x 11.5 H
$75.00 + tax
All day rental
NEW 2017
MINI FUN CASTLE
11.5ft L x 10.5ft W x 12.5 H
75.00 + tax
All day rental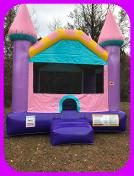 DAZZLING CASTLE
13ft W x 13ft L x 15ft H
$100.00 + tax
All day rental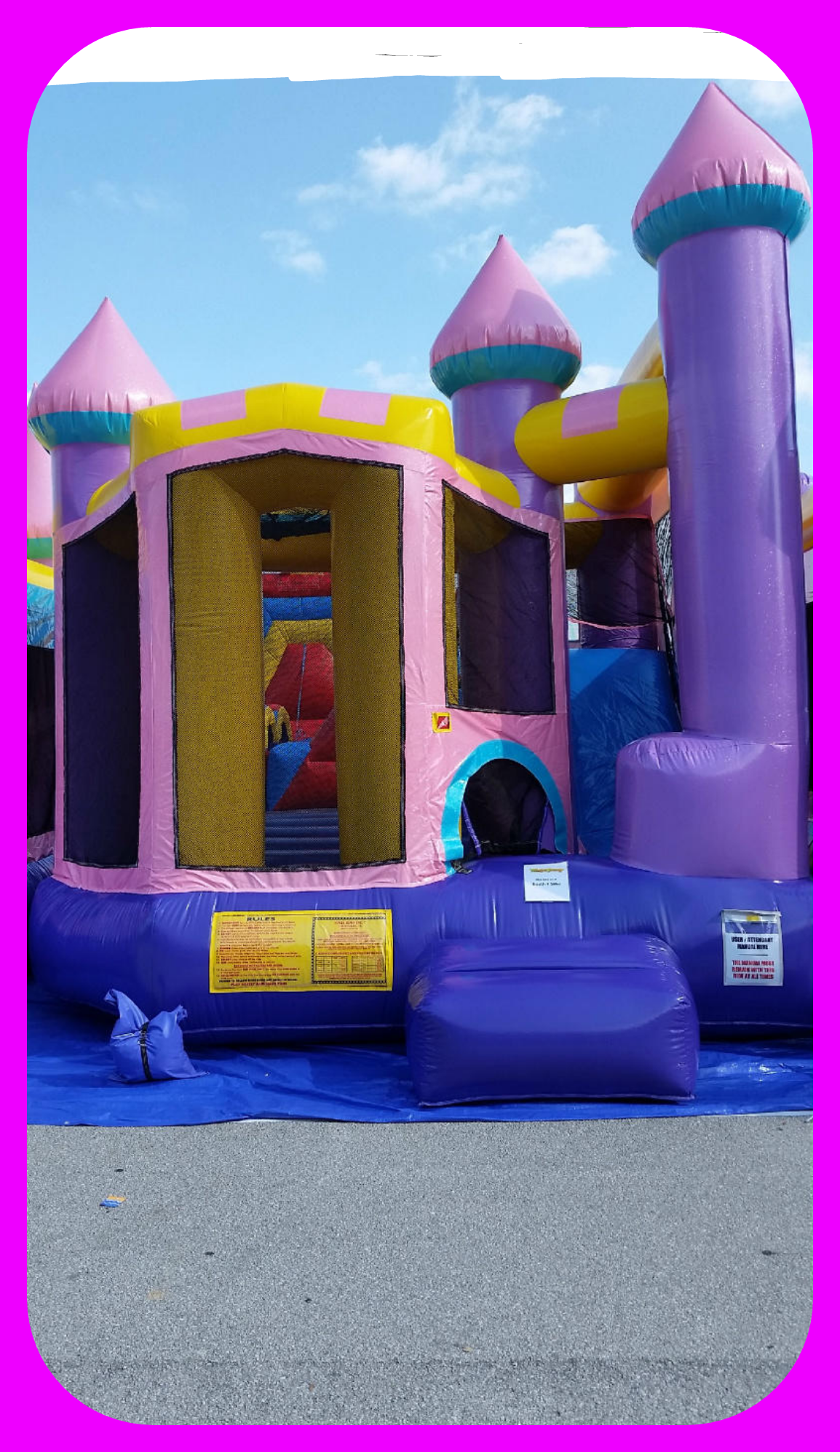 DAZZLING COMBO
with slide
(This combo with slide has basketball hoop on the inside. All the
netting around this inflatable makes it less likely to blow away !!)
15ft W x 18ft L x 16ft H
$175.00 + tax
All day Rental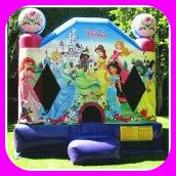 Disney Princess Inflatable Bounce House
13ft W x 13ft L x 15ft H
$125.00 + tax
All day rental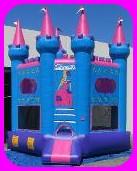 Blue Princess Inflatable Bounce House
13ft W x 13ft L x 15ft H
$125.00 + tax
All day rental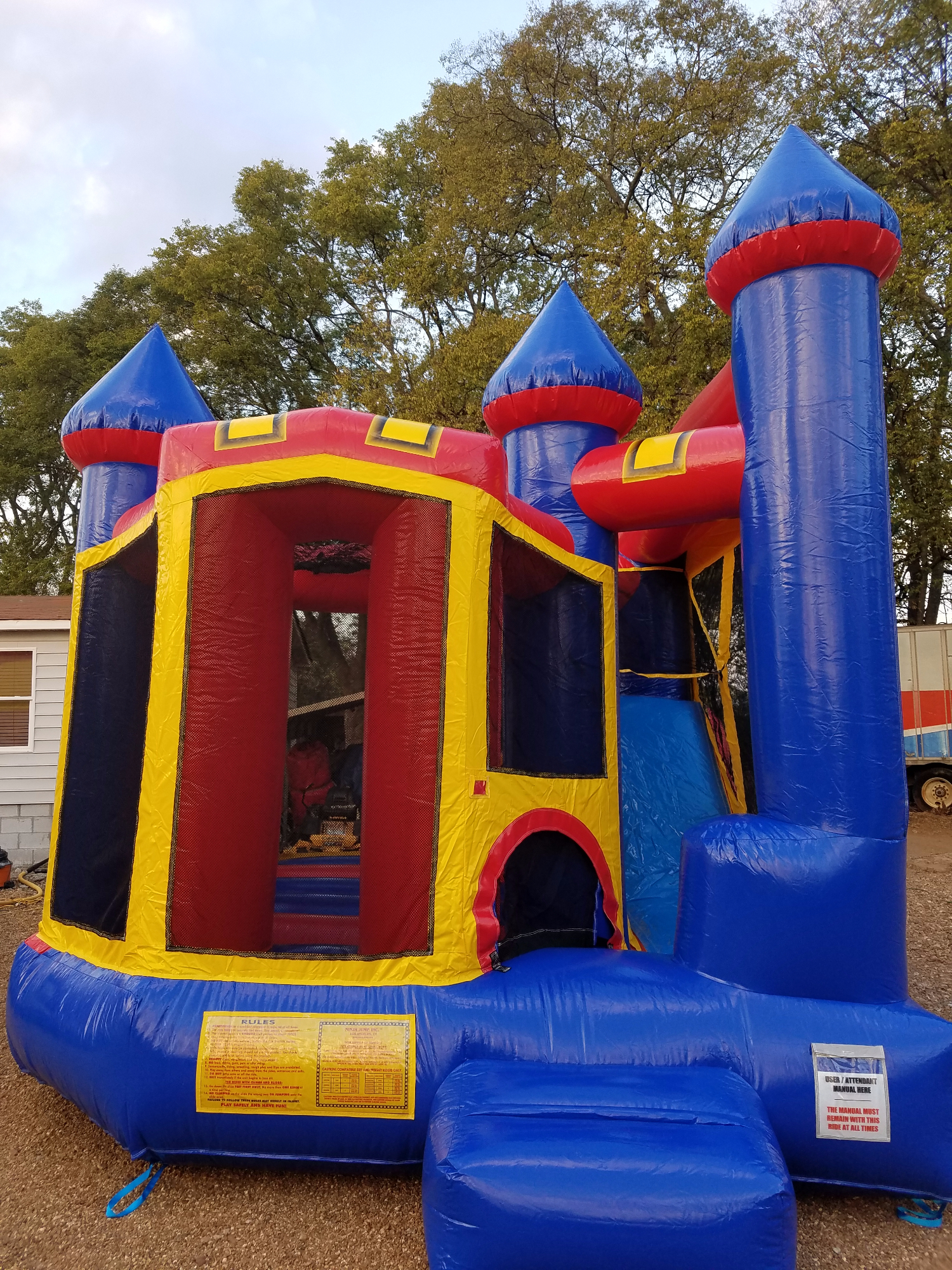 BACKYARD COMBO with slide
(This combo with slide has basketball hoop on the inside. All the
netting around this inflatable makes it less likely to blow away !!)
15ft W x 18ft L x 16ft H
$175.00 + tax
All day Rental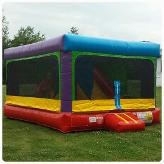 Wacky Bouncer with Slide on inside
11ft W x 17ft L x 8ft H
$135.00 + tax
All day rental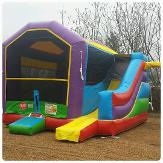 Boro Bounce Combo with slide
16ft W x 20ft L x 13ft H
+ tax
All day Rental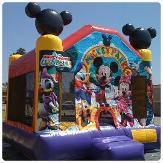 Mickey Park Inflatable Bounce House
13ft W x 13ft L x 15ft H
$125.00 + tax
All day rental
Nashville, tn, Lebanon, tn, Franklin ,tn, Brentwood ,tn, Colombia ,tn, Mt. Juliet ,tn, Springhill ,tn, Shelbyville ,tn, Woodbury ,tn, Thompson Station ,tn,
Kids party ideas in Smyrna Tn, Kids Party ideas in Murfreesboro TN, Kids Party Ideas in LaVergne TN, Kids party ideas in Madison TN, Kids party ideas in Donelson TN, Kids party ideas in Hermitage TN, Kids party ideas in Mt Juliet TN, Kids party ideas in Franklin TN, Kids party ideas in Springhill TN, Kids party ideas in Brentwood TN, kids party ideas in Columbia TN, Kids party ideas in Gallatin TN, Kids party ideas in Goodlettsville TN, Kids Party ideas in Hendersonville TN, Kids Party ideas in Lebanon TN, Kids party ideas in Gordonsville TN, kids party ideas in Tracy City TN, Kids party ideas in Monteagle TN, Kids party ideas in Dickson TN, Kids party ideas in Thompson Station TN, kids party ideas in Manchester TN, kids party ideas in Shelbyville TN, kids party ideas in Woodbury TN, Kids party ideas in Ashland City, space ship, rocket, alien, extraterrestrial, astronaut, star trek,
inflatable bounce houses,pole tents, frame tents, water slides,tables and chairs, cotton candy machine, snow cone machines, concessions, Gateway Island, birthday party, graduation, daycare, childcare, kids, kid, children, child, company picnic, vbs, school event, ceremony, ceremonies, business, commercial, sky dancers, skydancers, sky guy, sky guys, sky puppets, jumper, jumpers
cheap bounce house, cheap inflatables, lowest cost inflatables, low priced, new inflatables for rent, mickey mouse, minnie mouse, shrek, scooby doo, little mermaid, spiderman, spider man, sponge bob, dora, princess bouncer, diego, hello kitty, tickle me elmo, combo bounce house, bounce house with slide, character bouncer, themed parties, trackless train, face painting, face painter, kids mascot, kid mascot
costume rental, character rental, mascot rental, Disney Princess, girl bounce house, girl inflatables, dunk tank, dunk booth, dance floor rental, concession,
La Vergne, Smyrna, Antioch
37127, 37129, 37128, 37130, 37137, 37132, 37133
37071, 37135, 37014, 37014, 37011, 37013
7210 Corner Drive, Murfreeboro TN 37129
Nashville TN Game Truck
Game Truck Party Nashville TN
Nashville TN Video Game Party
Mobile Video Game Party Murfreesboro TN
Party Bus Nashville TN
XBOX Party Nashville TN
Video Game Truck Nashville TN