BORO BOUNCE AND PARTY RENTALS
INFLATABLE BOUNCE HOUSE PHOTO GALLERY
615-438-0195 Call 8am to 8pm Everyday
TO RESERVE, PLEASE USE OUR 24HR AUTOMATED SYSTEM ON RESERVATION PAGE
We deliver early mornings from 7am to 11am and pick up 3pm to 7pm. If you need a specific delivery time it may cost an additional fee, please let us know. Delivery times are set by GOOGLE MAPS and it changes course every time an order is added or canceled. It starts with whomever is the furthest away.
GIANT UFO COMBO = $300.00 (Brand New 2014)

Height 20ft

Width 25ft

Length 36.5ft




FIRE STATION COMBO = $250.00 (Brand New 2014)

Height 12.5ft

Width 16.5ft

Length 21.5ft



PRINCESS CARRIAGE COMBO = $275.00

(Brand New 2014)

Height 16ft

Width 13.5ft

Length 31ft

GAME TRUCK for 2hrs = $325.00
< PLEASE CLICK ON PICTURE TO ENLARGE !! >
WATER SLIDES
(Water slide rentals must be picked up by 6:00pm, if outside of Rutherford County pick up by 5pm)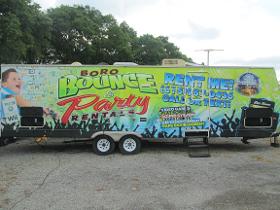 Want to have a Themed Bday Party? Rent a Live Character with your Bounce House !!

For Character Mascot Performer call

615-593-3418

$100 for 30 min

$150.00 for 1hr




*Character RENTAL and Delivery*




ADD A 2ND CHARACTER FOR ONLY $35

For Train Conductor 615-335-1774

$150.00 for 1 hr
HERE ARE SOME BOUNCE HOUSES YOU CAN USE UNDER SHELTERS, CARPORTS, TWO-CAR GARAGES, OR EVEN A HUGE FAMILY ROOM !!
https://www.facebook.com/borobounceandpartyrentals
Nashville, tn, Lebanon, tn, Franklin ,tn, Brentwood ,tn, Colombia ,tn, Mt. Juliet ,tn, Springhill ,tn, Shelbyville ,tn, Woodbury ,tn, Thompson Station ,tn,
Kids party ideas in Smyrna Tn, Kids Party ideas in Murfreesboro TN, Kids Party Ideas in LaVergne TN, Kids party ideas in Madison TN, Kids party ideas in Donelson TN, Kids party ideas in Hermitage TN, Kids party ideas in Mt Juliet TN, Kids party ideas in Franklin TN, Kids party ideas in Springhill TN, Kids party ideas in Brentwood TN, kids party ideas in Columbia TN, Kids party ideas in Gallatin TN, Kids party ideas in Goodlettsville TN, Kids Party ideas in Hendersonville TN, Kids Party ideas in Lebanon TN, Kids party ideas in Gordonsville TN, kids party ideas in Tracy City TN, Kids party ideas in Monteagle TN, Kids party ideas in Dickson TN, Kids party ideas in Thompson Station TN, kids party ideas in Manchester TN, kids party ideas in Shelbyville TN, kids party ideas in Woodbury TN, Kids party ideas in Ashland City
inflatable bounce houses,pole tents, frame tents, water slides,tables and chairs, cotton candy machine, snow cone machines, concessions, Gateway Island, birthday party, graduation, daycare, childcare, kids, kid, children, child, company picnic, vbs, school event, ceremony, ceremonies, business, commercial, sky dancers, skydancers, sky guy, sky guys, sky puppets, jumper, jumpers
cheap bounce house, cheap inflatables, lowest cost inflatables, low priced, new inflatables for rent, mickey mouse, minnie mouse, shrek, scooby doo, little mermaid, spiderman, spider man, sponge bob, dora, princess bouncer, diego, hello kitty, tickle me elmo, combo bounce house, bounce house with slide, character bouncer, themed parties, trackless train, face painting, face painter, kids mascot, kid mascot
costume rental, character rental, mascot rental, Disney Princess, girl bounce house, girl inflatables, dunk tank, dunk booth, dance floor rental, concession,
La Vergne, Smyrna, Antioch
37127, 37129, 37128, 37130, 37137, 37132, 37133
37071, 37135, 37014, 37014, 37011, 37013
7210 Corner Drive, Murfreeboro TN 37129
Nashville TN Game Truck
Game Truck Party Nashville TN
Nashville TN Video Game Party
Mobile Video Game Party Murfreesboro TN
Party Bus Nashville TN
XBOX Party Nashville TN
Video Game Truck Nashville TN