BORO BOUNCE AND PARTY RENTALS
GAME TRUCK
GAME TRUCK IS CURRENTLY UNAVAILABLE
MOBILE VIDEO GAME TRUCK PARTY
615-438-0195 8am to 6pm Everyday
- RENTAL PRICES:
2HRS - $300.00 + Tax

$50.00 for each additional hour

Deposit of $150.00 is due to fully reserve GAME TRUCK.
Remainder Balance is due at least 2 days before event !!
WE DELIVER GAME TRUCK AT LEAST 15min BEFORE YOUR EVENT. PLEASE LET US KNOW PARKING CONDITIONS.
FEATURES:
GAMETRUCKIS CLIMATE CONTROLLED WITH HEAT OR AIR
2ND AIR CONDITIONER FOR EXTRA HOT DAYS
3 SEPARATE ROOMS W/ DOORS THAT CLOSE
GAME TRUCK CAN BE SELF POWERED OR YOU CAN PLUG UP TO YOUR HOUSE WHEN AIR UNIT IS NOT IN USE.
HAS A PROFESSIONAL DJ SYSTEM WITH DUAL 15IN PEAVEY SPEAKER SYSTEM FOR YOUR GUEST ON THE OUTSIDE FOR LISTENING OUTSIDE OF THE GAMETRUCK
INSIDE GAMETRUCK HAS 2 BOOKSHELF SPEAKERS WITH A 10IN SUBWOOFER.

6 FLAT SCREEN TV'S AND MANY VIDEO GAMES
Consoles: XBOX 360, WII
We have many of the WII games. We also have X-BOX 360 games. (We do not have PlayStation)
Setup personnel will be there for your event to explain how to use equipment. Setup personnel sets up the truck , finds the games that the guests want to play, and start the games. Players must know how to play games. There is a list of games below. You can choose a few and when we arrive we will have games, that you have chosen, loaded and ready. So there will be no waiting for games to be loaded. (If you need a game coach present to show how to play the games, there is a fee of $25 per hr.)
75FT OF LEVEL SPACE IS RECOMMENDED: VEHICLE PULLING TRAILER IS 20FT LONG, TRAILER IS 32FT LONG AND 8FT WIDE. BEFORE RESERVING, PLEASE MAKE SURE LOCATION HAS ENOUGH SPACE !!
This Game Truck does not have internet so we do not have games like FORTNITE or any games requiring internet.
Game Truck is recommended for ages 10yrs and up
CHILDREN 4 YRS AND UNDER ARE NOT ALLOWED IN GAME TRUCK WITHOUT A PARENT !!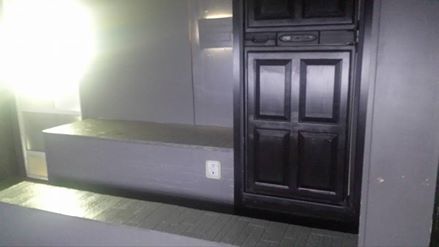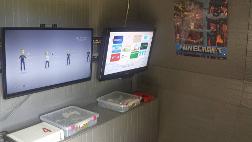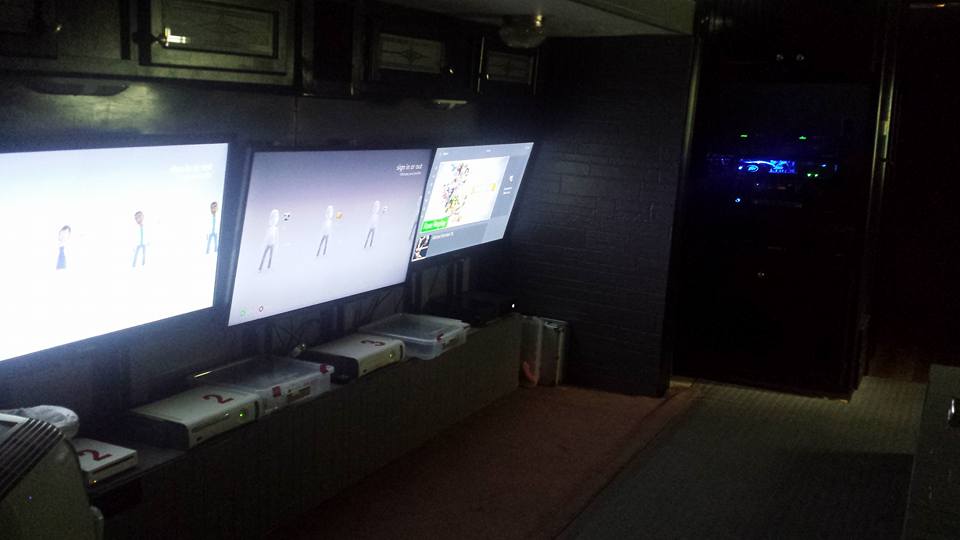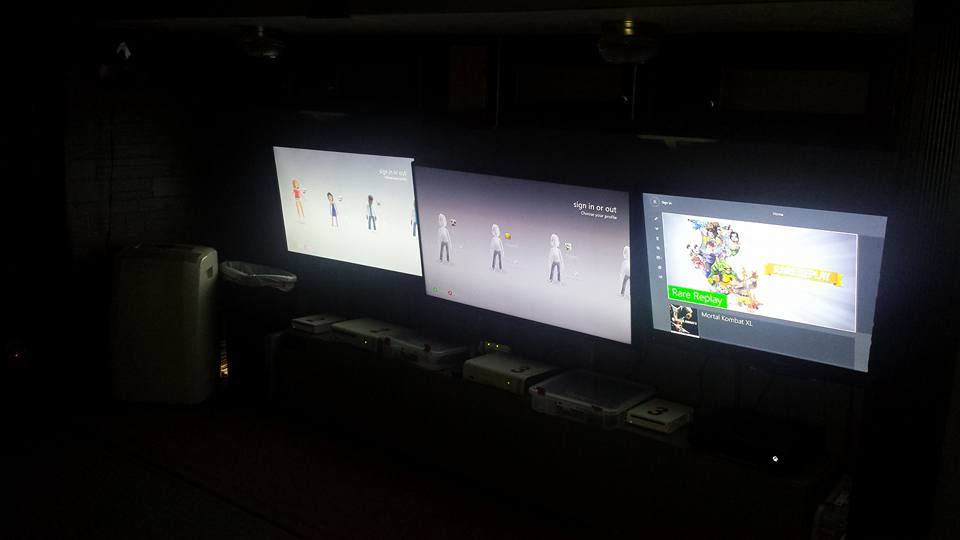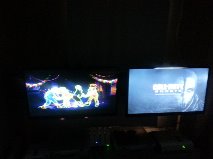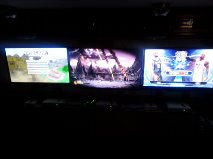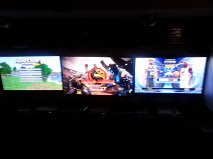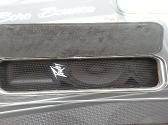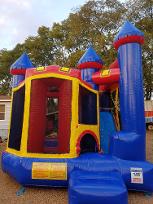 $25.00 off any bounce house when rented with Game Truck !!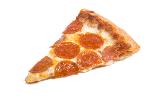 YOUR PIZZA, DRINK, AND CAKE ARE WELCOME INSIDE OF THE GAME TRUCK
(PIZZA,DRINK, AND CAKE NOT INCLUDED)
Game Truck is recommended for ages 10yrs and up
CHILDREN 4 YRS AND UNDER ARE NOT ALLOWED IN GAME TRUCK WITHOUT A PARENT !!
SERVICE AREAS
We service all of Middle Tenn
If outside of Rutherford County a travel fee will apply
-- CANCELLATION POLICY:
A valid credit card or debit card is required to guarantee payment for your BORO BOUNCE GAME TRUCK party. (If you cancel rental, you will loose any payments made toward Game Truck Rental) We can not reschedule after 5 days before your event,
-- PRIVACY POLICY:
BORO BOUNCE GAME TRUCK is committed to protecting your privacy. We use the information we collect on the site to make bookings with BORO BOUNCE as simple as possible. We do not sell, trade, or rent your personal information to others
-- TRAVEL/FUEL FEES:
A travel/fuel fee is applied for locations outside of Rutherford County. Please contact us to find out details for your party.
-- BAD WEATHER:
The BORO BOUNCE GAME TRUCK was designed for all types of weather conditions. The studio is insulated and climate controlled with heat and air conditioning. In the event of severe weather (lighting, very high winds, flooding and /or extremely heavy rains, snow or ice) we reserve the right to reschedule your service to guarantee the safety of your , your guests, our staff, and equipment. If the threat of these storms threatens you party and you are aware in advance, please contact us to begin the rescheduling as soon as possible.
-- SUPERVISED CHILDREN:
BORO BOUNCE GAME TRUCK does require a parent or responsible adult to be present inside or near the game truck at all times.
-- DAMAGE/INJURY:
BORO BOUNCE GAME TRUCK or any of its employees will not be responsible for any damage to property resulting from a request by the client to position the studio in a specific location. this includes both above ground and client below ground property/equipment damage. Additionally, BORO BOUNCE GAME TRUCK reserves the right to charge the client's credit card for damages to the trailer or equipment resulting from the careless or willful damage of the clients guests. BORO BOUNCE or their employees assume no responsibility for any injuries sustained on the client's property or their designated location. BORO BOUNCE is not responsible for anyone under the influence of alcohol or recreational drugs. All liability for damages or injuries are the sole responsibility of the client and/or host.
-- FOOD/DRINKS:
BORO BOUNCE GAME TRUCK does allow food and drinks inside game truck. We provide Trash Can and Trash Bags.
It takes time to find a game. It takes over 5 min. to load X-Box Games. If you pick out a game before event, it will be a faster setup.
X-BOX 360 GAMES:
Aliens vs Predator

Amped 3

Angry Birds Trilogy

Assassins Creed

Assassins Creed II

Assassins Creed III

Assassins Creed Brotherhood

Assassins Creed IV Black Flag

Assassins Creed Rogue

Assassins Creed Revelation

Back to the Future

Batman - Arkham Asylum

Batman - Arkham City

Batman - Arkham Origins

Batman - Tell Tale Series

Battlefield 3+4

Bioshock

Bioshock 2

Bioshock Infinite

Blacksite

Blitz-The league II

Bulletsform

Bully Scholarship Ed

Burn Out Paradise

Burn Out Revenge

Call of Duty 3

Call of Duty 4 Modern Warfare

Call of Duty Advanced Warfare

Call of Duty Black Ops

Call of Duty Black Ops II

Call of Duty Ghosts Play

Call of Duty CRJ Ghosts

Call of Duty World at War

CastleVania Lord of Shadow 2

Command- Conquer 3

Crysis CRJ 2

Dante's Inferno

Daytona USA

Dead Island

Dead or Alive 4

Dead Rising

Dead Rising 2

Dig Dug

Dirt 2

Dishonored

Double Dragon

Ducktales

Duke Nukem Forever

EA Sports NHL Legacy Edition

Fallout 3

Fallout New Vegas

Far Cry 3

Far Cry 4

Farming Simulators

FIFA 18

Fight Night Champion

Force Unleashed II

Forza Horizon

Forza Horizon 2

Forza Motorsport 2

Forza Motorsport 4

Fracture

Galaga

Gears of War

Gears of War 2

Gears of War 3

Gears of War Judgement

Ghost Recon Advanced War Fighter 2

Ghost Recon Future Soldier

Ghostbusters

Grand Theft Auto IV

Grand Theft Auto V

Halo 3

Halo 4

Halo Wars

Halo Combat Evolved

Halo Reach

Halo Spartan Assault

Hexic

Injustice Gods Among Us

King Kong

Kingdon for Kefling

Left for Dead

Left for Dead 2

Lego Indiana Jones

Lego Indiana Jones 2

Lego Batman

Lego Batman 2

Lego Batman 3

Lego Jurassic World

Lego Marvels Super Heroes

Lego Marvels Avengers

Lego Pirates of the Caribbean

Lego Star Wars III: Clone Wars

Lego Star Wars: The Complete Saga

Lego Star Wars: The Force Awakens

Madden NFL 17

Marvel Ultimate Alliance

Marvel Ultimate Alliance 2

Marvel vs Capcom 3

Minecraft

Minecraft Story Mode

Mortal Kombat

Mortal Kombat vs DC Universe

MX vs ATV Reflex

Nascar 2015

NBA 2K18

NBA Street Homecourt

Need for Speed Hot Pursuit

Need for Speed Most Wanted

Need for Speed Shift 2 Unleashed

Ninja Gaiden 3: Razors Edge

Peggie Nights

Perfect Dark Zero

PGR 4

Pinball FX

Prince of Persia

Red Dedd Redemption

Resident Evil Operation Raccoon City

Skate 3

Smack Down vs Raw 2007

Smack Down vs Raw 2008

Smack Down vs Raw 2011

Sonic Unleashed

Sonic the Hedgehog

Soulcalibor IV

Soulcalibor V

Spiderman Shattered Dimensions

Spidy Web of Shadows

Splatter House

Star Wars The force Unleashed

Star Wars The force Unleashed 2

Street Fighter Hyper Fighting

Street Fighter X Tekken

Super Street Fighter IV

Tekken 6

The Amazing Spiderman

Tie Bigs

The Simpsons

The Walking Dead

The walking Dead - Survival instinct

TMNT Arcade

Tony Hawk American Westland

Tony Hawks Project 8

Transformers - Fall of Cybertron

Transformers - Rise fo the Dark

Transformers - The Game

Tron - Evolution

UFC Undisputed 3

Viva Pinata

WWE 2K12

WWE 2K13

WWE 2K14

WWE 2K15

WWE 2K16

WWE Legends

WWE All Stars
WII GAMES:
101 in 1 Party Mega Mix

Boom Box Bash Party

Call of Duty Modern Warfare Reflex

Baseball Blat

BPS - The Hunt

Cooking Mama

Basketball Hall of Fame

BPS - The Strike

Birthday Party

Call of Duty World At War

Crash of the Titans

Dancing with the Stars

Donkey Kong Country Returns

Dance Revolution Hottest Party

Disney Epic Mickey

Donkey Kong Jungle beat

Dance Revolution Hottest Party 2

Dance Revolution Hottest Party 3

Donkey Kong - Barrel Blast

Dora Crystal Kingdom

Dragon Ball - Revenge of the King Precolo

Family Fun Football

Dragon Ball Z- Budokai Tenkaichi

Dragon Ball Z- Budokai Tenkaichi 3

Excite Truck

Family Game Night 3

Family Game Night 2

Exite Boys

Family Game Show

EA Boogie

Face Breaker K.O Party

Family 30 Great Games

Ferrari Challenge

Game Party 3

Ghostbusters

Groovin Blocks

Hot Wheels battle Force 5

Ice Age 2 The Meltdown

Just Dance

Kirby's Return to Dreamland

Littlest Pet Shop Friends

Mario + Sonic Olympic Winter Games

Mario + Sonic Olympic Games

Mario Strikers Charged Football

Marvel Ultimate Alliance 2

Michael Jackson the Experience

NBA 2K16

Need for Speed Pro Street

Need for Speed Undercover

No More Heros Desparate Struggle

Resident Evil The Umbrella Chronicles

Rock Star Games resents Tale Tennis

Shrek Carnival Craze Party Games

Scarface - The World is Yours

Sonic + Sega All Stars Racing

Sonic Riders Zero Gravity

Star Wars - The Force Unleashed

Star Wars - The Clone Wars

Super Mario Smash Bros Brawl

The Black Eyed Peas Experience

The Godfather Blackhand Edi.

The Hip Hop Dance Experience

The House of the Dead - Overkill

The House of the Dead - 2+3

Teenage Mutant Ninja Turtles - Smashup

Transformers-Cyberton Adventures

Transformers Revenge of the Fallen

Ultimate Board Game Collections
Game truck, game trailer, mobile game truck, mobile game trailer, arcade, party bus, game bus, video game truck, mobile theater, drive-in, park, wii, x-box, psp, playstation, console, stereo, speaker, party, dance, stage,
Gaming trailer, Gaming truck, Gaming Bus, Game Trailer, Game truck, Game Bus, Portable video game trailer, mobile video game trailer, rolling game truck, rolling video game truck, rolling game trailer, rolling game truck, rolling game bus, game theater, arcade trailer, arcade truck, arcade bus,
Kids party ideas in Smyrna Tn, Kids Party ideas in Murfreesboro TN, Kids Party Ideas in LaVergne TN, Kids party ideas in Madison TN, Kids party ideas in Donelson TN, Kids party ideas in Hermitage TN, Kids party ideas in Mt Juliet TN, Kids party ideas in Franklin TN, Kids party ideas in Springhill TN, Kids party ideas in Brentwood TN, kids party ideas in Columbia TN, Kids party ideas in Gallatin TN, Kids party ideas in Goodlettsville TN, Kids Party ideas in Hendersonville TN, Kids Party ideas in Lebanon TN, Kids party ideas in Gordonsville TN, kids party ideas in Tracy City TN, Kids party ideas in Monteagle TN, Kids party ideas in Dickson TN, Kids party ideas in Thompson Station TN, kids party ideas in Manchester TN, kids party ideas in Shelbyville TN, kids party ideas in Woodbury TN, Kids party ideas in Ashland City
Nashville, tn, Lebanon, tn, Franklin ,tn, Brentwinflatable bounce houses,pole tents, frame tents, water slides,tables and chairs, cotton candy machine, snow cone machines, concessions, Gateway Island, birthday party, graduhation, daycare, childcare, kids, kid, children, child, company picnic, vbs, school event, ceremony, ceremonies, business, commercial, sky dancers, skydancers, sky guy, sky guys, sky puppets, jumper, jumpers
cheap bounce house, cheap inflatables, lowest cost inflatables, low priced, new inflatables for rent, mickey mouse, minnie mouse, shrek, scooby doo, little mermaid, spiderman, spider man, sponge bob, dora, princess bouncer, diego, hello kitty, tickle me elmo, combo bounce house, bounce house with slide, character bouncer, themed parties, trackless train, face painting, face painter, kids mascot, kid mascot
costume rental, character rental, mascot rental, Disney Princess, girl bounce house, girl inflatables, dunk tank, dunk booth, dance floor rental, concession,
La Vergne, Smyrna, Antioch
37127, 37129, 37128, 37130, 37137, 37132, 37133
37071, 37135, 37014, 37014, 37011, 37013
7210 Corner drive, Murfreesboro TN 37129
ood ,tn, Colombia ,tn, Mt. Juliet ,tn, Springhill ,tn, Shelbyville ,tn, Woodbury ,tn, Thompson Station ,tn,
Nashville TN Game Truck
Game Truck Party Nashville TN
Nashville TN Video Game Party
Mobile Video Game Party Murfreesboro TN
Party Bus Nashville TN
XBOX Party Nashville TN
Video Game Truck Nashville TN